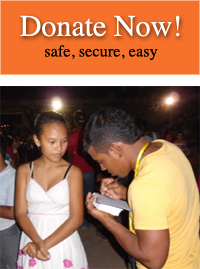 Help Us Lead People to Jesus Christ!
What is the value of a soul? It moves my heart to share with you that over the past 5 years we have recorded one commitment to CHRIST for every $13.85 that our partners have invested in this ministry! Your gift of $1000 ($83/month) will help lead 72 people to Jesus, and $2500 ($208/month) will help lead 180 people to Jesus, and $5000 ($417/month) will help lead 361 people to Jesus (just like the young girl in the photo from our Honduras Crusade)! Through whatever gift amount God's Spirit puts in your heart (it may be a different  amount than those above), God will use your generosity, and YOU WILL leave an eternal legacy by helping us to Reach, Win, & Train people with the Good News of Jesus Christ!
Our LEGACY CLUB annual giving levels are: SILVER $1000 ($83/month), GOLD $2500 ($208/month), PLATINUM $5000 ($417/month). Please consider joining our LEGACY CLUB today, and through your giving you will send us out to the nations to lead more people to Jesus Christ! You will receive a receipt for your tax-deductible donation. THANK YOU for your help & partnership in the Gospel of Jesus Christ!
(SNGM is a member of GuideStar, an agency that provides public financial disclosure and accountability for every IRS-registered non-profit organization in the United States. SNGM is a Gold Level member, which is their highest level of financial transparency and accountability. You can view full disclosure of our financials by clicking on the Gold Logo).
Ways You Can Give Now:
Online Credit Card via PayPal
Select your LEGACY CLUB gift amount (these are one-time gifts; monthly gifts and other gift amounts can be entered in the "custom gift" section below):
CUSTOM GIFT: in the boxes below please 1) enter the amount of your gift, and then 2) select if you would like this to be a monthly or a one-time gift?
You can mail a check to:
Scott Nute Global Ministries
PO Box 79016
Houston, TX  77279
Cash gifts can be given in person.
Electronic Funds Transfer (EFT) or Electronic Check
We are happy to assist you in establishing monthly or one-time gifts using EFT. Through your bank, you may send monthly or special gifts via electronic check.
Stocks, Securities, and Planned Giving Options
A great way to leave a legacy with the Gospel is through a direct transfer of stock and/or securities from your brokerage firm to SNGM, and by naming SNGM as a beneficiary in a will or trust. Leaving a legacy through stocks, securities, wills, trusts, direct cash gifts, and any additional estate planning, can be done easily through the Scott Nute Global Ministries Fund with the National Christian Foundation of Houston. For more information please contact us by phone: 713-277-8638 or email: info@scottnute.org
In-Kind Gifts
For gifts of professional service, property, automobiles, computers/printers in good condition, to transfer frequent flyers miles, and any other gifts, please contact us at: info@scottnute.org
Volunteer & Staff
The following volunteer positions are currently available:
Donor Care Representative (as a volunteer or for compensation)
Grant Writer
Bookkeeper
Video Editor
SNGM appreciates your prayer and financial support! If you would like to know more about the ongoing needs and opportunities with SNGM, please do not hesitate to call 713-277-8638 or e-mail us at: info@scottnute.org