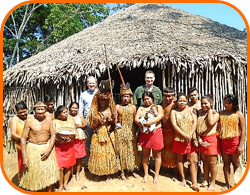 Exciting reports from across the globe! Let me start with our recent Peru project: August 7th-13th we were in Iquitos, Peru, where we preached the Gospel at 5 Community Crusades, and in 2 private school outreach programs on Drug Awareness (public schools closed due to a spontaneous teachers strike). At our Pastors' Conference there were 22 church leaders and we shared messages on systematic theology and personal evangelism, and we provided ministry resources to these leaders. In addition, we took the Gospel to tribes who live on the Amazon River (top photo). God moved everywhere we went, and 195 Peruvians turned to Jesus Christ!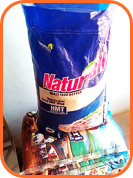 God has blessed our new E-Video Team ministry! So far this year, our teams have seen 1,133 people make decisions to follow Jesus Christ! Our E-Teams work with local churches (if any are present) to reach the lost, the hungry, and the poor in slums and villages throughout third-world countries! Along with sharing the love of Jesus Christ, our teams also share basic food like rice (photo right, 200 lb of rice that our India Team distributed to villages of Indian people) to those who attend the events; plus, we also share salvation tracts and, as we are able, Bibles. Here are reports from some recent E-Team Video Events:
INDIA: Our India leader, "Bob," conducted E-Video Events in numerous Indian villages. Our team gave rice portions and tracts to everyone who came to listen to our video message—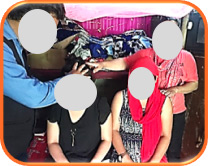 The Cross! So far this year, 122 people have received Jesus Christ in these villages! One testimony is from the woman in the third photo, who is blind, holding the bag of rice we gave to her. Bob said, "she is a blind lady…she heard with her ears and accepted Jesus as her personal Savior!" Bob is busy now with the follow-up and giving Bibles to new Christians, and he is preparing future E-Events in more Indian villages!
NEPAL: Our Nepal leader, "Rusty," conducted our E-Video Events in local Nepalese churches (there are 83 churches in Rusty's region alone where we plan to conduct video events). Our team gave salvation tracts and snacks to everyone who came to hear the Gospel of Jesus Christ!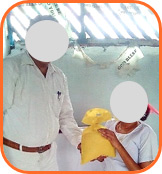 In the 4th photo below, Rusty and his wife pray over 2 ladies they led to Christ during the video event follow-up!
PAKISTAN: Our Pakistan leader, "Mike," provided snacks and juice to those who attended our E-Events, which are conducted in secret due to the radical Islam in Pakistan. Mike has seen 62 people commit to Christ this year! He regularly meets with the new Christians to teach them the Bible and provide study resources (bottom photo). So far, we have given 50 Bibles to new Pakistani Christians in their language, Urdu, and we plan to purchase and give more!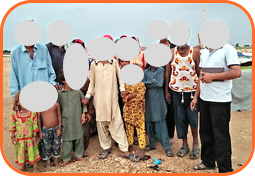 My home church, Houston's First Baptist Church, has donated an $11,250 Challenge Gift to our ministry with this challenge to our donors and friends…to not just meet, but to double, their gift! Meeting this challenge will provide $33,750 to our ministry, and will greatly help us develop our E-Event Video Teams ministry…enabling them to continue sharing the Gospel, and giving food, Bibles, and resources, to people living in the most desperate conditions in the world! Meeting this challenge will also help us continue our evangelistic crusade events, church ministry training, drug awareness school programs, Bible & tract distribution, and free transportation to people who attend our crusades. Will you please help us meet this challenge gift? Your special donation can be designated to "Houston's First Baptist Challenge Gift." Thank you for your help!
Sincerely,

Scott Nute

One of my favorite things to do is go to a country I have not been to before to preach the Gospel of Jesus Christ and add a new country to our global ministry network! I am traveling to the country of Peru for the first time August 7-13th!  We will conduct ministries in Peru like we have in other countries we've visited (see photos on right).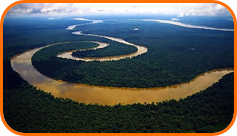 One thing Peru is known for is the Amazon River (photo left), which runs through their country. This river is the largest in the world with a length over 4,000 miles, and a width of
120 miles in some places. What a unique experience it will be to—as Jesus told us—be "fishers of men" along the Amazon River!
We will conduct several Community Crusades (such as in India, top right photo, 2012) throughout the region of Iquitos, Peru, which is a part of the "trunk" of the Amazon River. My friend Pastor Mike McGuire from Hobbs, NM, who is fluent in Spanish, will be joining me once again. Together, we will be proclaiming Christ and calling people to repent and come to THE CROSS!
In tandem with these outreach events, we will be taking our Drug Awareness Program into several public schools and universities! We will have the freedom to share the Good News of Christ and invite all the students (like the Uganda students in 2013, second right photo) to say Yes to Jesus! We will also be speaking in a Seminary. We are partnering with The Gideons International of Peru, and we will be giving Bibles to every student we reach (left photo below, Philippine women receiving both Bibles & tracts in their language in 2012)!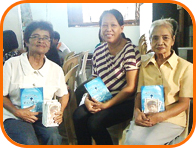 On one day of this project we will host a Pastor's Conference (middle photo, Pastor's Conference, Haiti, 2011)! Mike will be sharing practical messages about the life and ministry of a pastor. I will do training on personal evangelism (like I did in an underground church in China in 2009, fourth photo right). We will distribute 20,000 salvation tracts in Spanish to the pastors to use in their ministries, and give tracts to every student and person we reach in Peru!
Unique outreaches we are doing will reach tribes who live along the Amazon River area, such as the Chayahuitas tribe in the bottom photo. What a joy it will be to share the love of Jesus Christ with Peruvian tribes of people, and to help them connect with a local church!
If you would like to help send me to Peru to Reach, Win, & Train people with the Gospel, please consider donating a specific contribution at this time to our Peru Amazon Project, August 2017. Your support and prayers are really appreciated—Thank You!
Onward to the Amazon in Peru,

Scott Nute

Earlier this year a vision of mine became reality when our ministry started conducting Electronic Evangelistic Video Events (E-Events) in other nations. During these events we show a custom-made translatable video of one of my sermons—THE CROSS! Our E-Event Team partners are showing this video in, and around, a section of the world called the 10/40 Window, where many Christians are in "high risk" of persecution…and we want to help these courageous Christians!
So far this year our E-Event video has been shown in India, Kenya, Nepal, Pakistan, the Philippines, and South Sudan, with 973 people making public decisions to repent and accept Jesus Christ! Plus, we are providing free training and discipleship materials to our partners that is helping them in both their personal spiritual growth, and in the follow-up of those they are leading to Christ! And, as able, we are providing Bibles to the new Christians. Below is a testimony and photos from our Pakistan E-Event Team partner, "Mike." Two years ago Mike received Christ through our website. Now, he is bravely using our resources to reach his people in the dangerous Islamic country of Pakistan!
"I am married and have three children (top photo), I live in Pakistan. My father was a hindu temple priest. Being a hindu I used to worship idols and offered sacrifices to the hindu gods in temple. I never get any satisfaction not even I got any peace in my life. Once I was searching about other religions on internet, I found a website www.scottnute.org this led me to learn so many new things about Christianity…like love, death of Jesus, Resurrection, faith and Free Salvation. I came to accept Jesus in my life and when I prayed to God I felt such a joy and peace in my life that I never experienced before. I was given more material to study and learn more deeply the word of God. I was also very afraid if my people know about me having contact with Christians they might give me troubles. I was in secret to learn and grown spiritually. I prayed to God for His protection. I found a Christian bookshop in my area where I purchased Bible in my native language Urdu. I started to teach my wife about these things and I found she came to accept Jesus in her life. We both read Bible every day and prayed…God gave us His calling to share things to other hindu people in our area. We are always careful. We are using a video called "THE CROSS" from Pastor Scott. We conduct video event and invite people that seem to be interested to learn about Jesus so I interpret this video (second photo) and people learn about it with great interest…during last four video events there were about 230 men, women and children came to attend it and 46 came to accept Jesus as their personal Lord & Savior. We also are doing follow-up meetings with them (third photo, Mike on left) where we gave Bibles in our language Urdu (bottom photo, Mike with Bible) to each who accepted Jesus to teach more things about God. The support we receive from people who give to Scott Nute's ministry has great impact in our lives and is helping us reach many people and we bought and gave Bibles to all new Christians. We want to thank those God's people. We need prayers for our safety and continue to do video events so many come to accept Jesus."
Thank you for your support and prayers that are—literally—changing lives all around the world! If you like, you can donate specifically to our E-Event Teams…and help us continue to provide equipment, tracts, Bibles, and training, to "Mike," and our other E-Event Teams, that they will use to continue to Reach, Win, & Train their people with the Gospel of Jesus Christ!
Next month, I will share details of our upcoming project in the Amazon of Peru!
For nations, cities, towns, and villages,

Scott Nute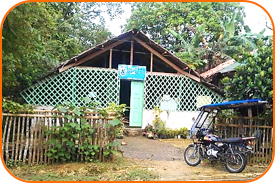 Very soon—May 11th-12th—our ministry has the opportunity to conduct the most unique event that we have ever done! We are having an Island-Wide Crusade on Siargao Island of the Philippines! God has already been working throughout the island…let me tell you more:
Located over 8,000 miles from America in the Philippine Sea, Siargao Island (map on left) is inhabited by 100,000 people on 169 square miles of land. The main beach on the island, Cloud 9 in General Luna, is listed as one of the top surfing locations in the world and hosts international surfing contests. This is the beach our ministry has rented where the crusade is being held!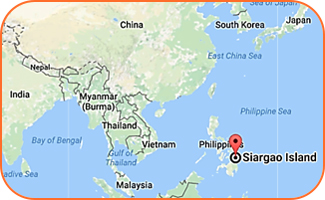 There are 112 churches (basically all tiny churches) united together for this special event, the first event of this kind they have ever done! Our Asia Event Coordinator stated that pastors said the unity and fellowship their churches have experienced in preparing for this event has been overwhelming! So much so that something has happened on the island and, for the first time in my ministry, local churches involved in one of our crusades are going to help us pay to rent buses to bring people to the crusade! Please know, basically every island church (like the one in the photo above), and every islander, is poverty stricken, with some pastors getting paid with fish and vegetables. Some islanders will be working overtime so they can donate to the crusade bus rentals to bring their family and friends to the crusade! So, this is a HUGE thing for the churches to do!
At $29,000, the transport budget for this crusade is the largest our ministry has ever had! The pastors, on their own initiative, came up with the idea that their churches would raise 1/2 of this amount ($14,500) to rent buses. I was stunned at this, and I realized that God is doing something special through these churches on Siargao Island!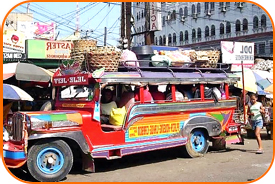 Notice the photos on the right: the top one is a bus called a "Jeepney," which is the main public transport on the island (each Jeepney holds around 60 people). We are going to rent as many Jeepneys as we possibly can, and also boat ferries from other islands (bottom photo), that will bring as many people as possible to hear the message of The Cross! It will only cost $1.66 per person ($100 per bus) per night for two nights to bring people to the crusade. Will you please help the island churches & our ministry to bring as many people as possible–by land and sea—to hear about Jesus Christ?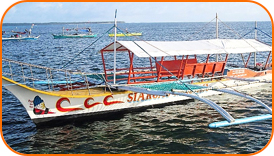 If you feel led to join with us in renting buses, you can give a designated donation (give online with no credit card fees) to "Philippines Island Crusade Transport May 2017." Our ministry needs to raise 1/2 of the transport budget ($14,500). Every dollar you give will go to rent as many buses as possible! Your gift sent today will allow us the "more than normal" time needed to prepare the island transport system. Thank you for helping us reach an island of precious lives with Jesus Christ!
For the island of Siargao,

Scott Nute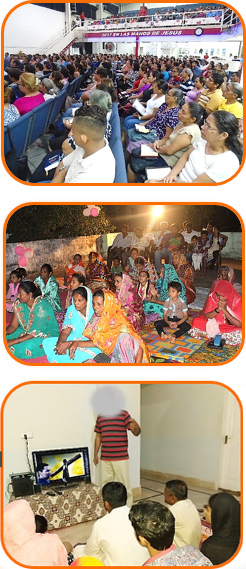 The past 2 months God has spread His Message through our ministry in a multi-cultured way! Our various teams conducted evangelistic & training events in these 4 countries: El Salvador, the Philippines, India, and Pakistan. Here is an overview:
In El Salvador February 15th-20th, our team conducted Community Crusades in 4 regions of El Salvador (photo on top right)! And, we spoke in public schools reaching a few thousand students with the Gospel! 334 people committed to Christ!
In the Philippines February 20th-24th, another phase of advance mobilization was completed for our upcoming Island-Wide Crusade, May 11-12. Our Philippine Event Director, Lourdman Cabuenos, taught our personal evangelism & follow-up system (churches are seeing people come to Christ before the crusade as a result of applying the Operation Andrew strategy)! Plus, Lourdman shared the Gospel in public schools on Siargao Island…over 500 students said YES to Jesus (photo left)!
Last month on March 12th in India (middle photo), and on March 24th in Pakistan, in the area of the world called the 10/40 Window, our ministry conducted our first E-Events (electronic evangelism events)! We partnered with churches in these countries and gave them a custom-made video of one of my messages—THE CROSS! This video was designed to be interpreted specifically for these electronic events in other nations. In the photo on the right, our video is being shown in Pakistan on a TV that we rented. As I share The Cross message through the video, the Pakistani pastor is translating the message into Urdu. To protect their identities, we cannot share the pastors' names. But, we can tell you that in India 61 people attended the event with 21 people repenting and trusting Jesus Christ; and, in Pakistan 63 people (16 children) attended the event, and 12 people made public decisions for Jesus Christ!
For countries in the 10/40 Window it could mean persecution for people who turn to Christ. Please, pray for these new believers and for these churches in India and Pakistan! Our ministry is also providing Bible study resources and ministry tools to these churches to assist in the discipleship of the new believers. As God provides, we plan to continue using technology to impact the nations for Christ, especially the nations that are closed or almost closed to the Gospel.
Here is the eternal fruit from our last 2 months of ministry in El Salvador, the Philippines, India, and Pakistan:
More than 867 people made public decisions of repentance and faith in Jesus Christ!
Over 4,100 church leaders and Christians were trained in our personal evangelism & follow-up system (the same system created by the Billy Graham Evangelistic Association that we were given permission to duplicate and use)!
42,000 Salvation tracts were distributed to church leaders and to Christians for their ministries and personal use! And, every person who committed to Christ was given a tract to share with their family and friends!
We thank and praise God for allowing our team & our partners to have a part in what He is doing throughout His world!
Because HE said "Go,"

Scott Nute