It is a joy to begin this New Year by sharing all the Lord did in our recent project in the Philippines! Thank you, our ministry partners, for praying, encouraging, and giving…for sending us out with the Gospel!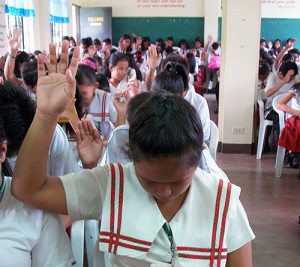 Our Manila Project Team—Glenda, Romy, Don-don, and others—did a tremendous job helping and organizing all the events we hosted! Our team conducted 15 programs in high schools, colleges, and junior high schools. Many young people, and teachers, were clearly touched and challenged when we discussed personal issues such as drug and alcohol problems, and the emptiness experienced in having sex outside of marriage. So many faces were attentive when we proclaimed how Jesus Christ has a plan for our lives, and that He will forgive our sins and give us eternal life and abundant life now! Many lives were forever changed!
The Holy Spirit did penetrating work in the hearts of the 285 pastors, church leaders and Great Commission-minded Christians who attended our four Leadership Development Conferences! The message "Suffering: God's Great Teacher" had the greatest impact and response as I spoke about suffering from Job, Chapter 1. This video message is on our website for your viewing.
We worked with several churches, organizations, and Christian "disciplers," who began immediate follow up and discipleship of the 7,731 people who made public decisions of repentance and faith in Jesus Christ during our Philippines Project! Creative follow-up methods are also being used via texting, Christian websites, and Facebook. Plus, we distributed 100 Bibles in the Philippine language, Tagalog. In addition, we distributed 30,000 salvation pamphlets to students, pastors, and Christians, and gave practical instructions on how to share them with their families, friends, and anyone they cross paths with.
Be sure and visit our website to view recent videos from international projects, and to see new photos, and to read ministry updates and new monthly devotionals on topics like, "Loneliness," and, "Are you a listener or a fixer?" Also, next month some of our partners in New Mexico are hosting "Benefit Dinners" for our ministry and you are welcome to join us in Albuquerque (Feb 24) and Las Cruces (Feb 25)! Contact us for more information: 713-277-8638; info@scottnute.org.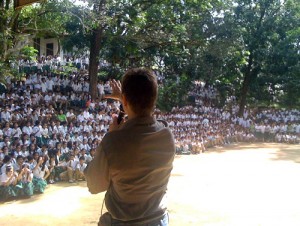 Are you looking for an opportunity to impact lives around the world for Jesus Christ? Our ministry currently has the following positions available: volunteer bookkeeper, volunteer video editor, and Donor Care Specialist (this position has compensation). If you have an interest in any of these positions, please contact us.
For your convenience, online giving is quick, easy, and available on our website. Your monthly commitment to support our ministry will be a powerful force as we begin this new year of reaching and training the nations with the Gospel of Jesus Christ! For those who are considering becoming a monthly partner in our ministry, the start of a new year is an ideal time to do so. A monthly gift of $20 will be multiplied by the Lord, and will help us make a difference throughout the world in the lives of non-Christians, pastors, churches, and the Body of Christ at-large! Thank you for rising up in faith with us this year…we truly appreciate your support and prayers!
For taking the Gospel to the world in 2012, I am gratefully yours,

Scott Nute