Can I tell you about an overlooked nation in our world—Burma! Burma (also called Myanmar) is a country in Southeast Asia. The population of Burma is 54 million, of which 88% of the people are Buddhists, and only 6% are Christian. One of our LIFE TEAM leaders, "Paul," is from Burma, but he and his family now live in India. Meaning, he is able to cross the border and conduct our video & food events in both countries. The photo below shows Burmese people worshipping God at our recent event in a church in Burma. Notice the people are wearing coats because it is winter. They have no heating system in most, if not all, churches and homes in Burma (and most third-world countries). So, to stay warm, they needed to wear coats in the church during the event. A total of 68 people publicly accepted Jesus Christ, of which some are drug addicts turning to the Lord for help and deliverance! Our team also gave the people food and salvation tracts in the Burmese language!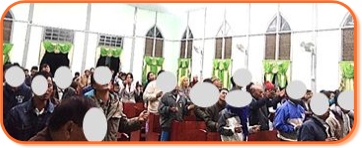 Not only was "Paul" recently representing our ministry in Burma, but also in India! The bottom photo shows Paul interpreting our outreach video—The Cross—to a group of people gathered in an Indian church. Paul reported that 35 people in this Indian village repented of their sin and accepted Jesus Christ! And, he said that "many [Christian] backsliders rededicated their lives to Christ and…seven church leaders were encouraged by the cross video message." Paul said he also "distributed rice and Bibles and many tracts to people."
Paul's ministry in Burma and India is one example of the courageous men and women God has brought into our ministry to lead our global LIFE TEAMS. Currently, we have 10 LIFE TEAMS in 6 countries, with over 20 more prospective LIFE TEAM leaders around the world on our "waiting list." Those on our waiting list cannot be added to our teams until we have more funding. As for our international crusades, I turn down around 90% of the opportunities we have for crusades. Having more supporters will allow us to both add more LIFE TEAMS and to conduct more crusades around the world! I need, and I am asking for, your help and consideration in the following way…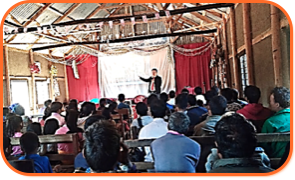 JUST ONE: Would you please tell just ONE of your friends and/or family members about our ministry? If you believe in our ministry, would you take the initiative in the next week or so to have your friend over for a meal, or meet them for coffee, or call them, and simply share with them about the lives God is changing through our ministry? You can give them the included information card and envelope and ask them to fill it out and return to me. And, you can give them our recent newsletters and website: www.scottnute.org. Word-of-mouth from people who believe in our ministry is a primary way our ministry grows! Last year, on average, it cost our ministry just $9.78 for each person we saw make a public decision for Jesus Christ (8,022 decisions in 2018)! So, I feel it would be worth your time investment to tell others about our ministry. You bringing just ONE new supporter into our ministry will not only change people's lives here and now, but will also compound both the eternal joy, and the eternal rewards, you will be given later in Heaven by God Himself…as the Bible says, "Not that I desire your gifts; what I desire is that more be credited to your account" (Philippians 4:17). 
Thank you for believing in us and for joining hearts with us!
For the world,

Scott Nute