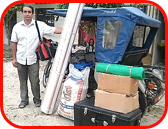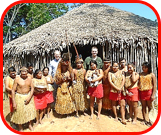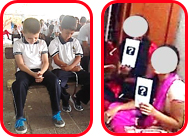 Merry Christmas! I hope this year has been full of peace for you and your family! We are finishing another year of fruitful global ministry! Rejoice with us in the following 2017 ministry results from El Salvador, Peru, India, Pakistan, Kenya, Nepal, South Sudan, and the Philippines, and know that your support & prayers made it all possible!
2,445 public decisions for Jesus Christ!
4,100 church members trained in personal evangelism & follow-up ministry.
8 International Video & Food Event Teams added to our ministry! To each team we provided ministry "kits" containing equipment such as video projectors and screens, Bibles, tracts, rice, and in some places a tricycle moto like the one in the top right photo that we purchased and gave to our team leader in Peru.
6 home churches/disciple groups
800 pounds of rice (and other foods) distributed to hungry people.
260 Bibles in a variety of languages were given to church leaders and new Christians.
50,000 salvation tracts were given to church leaders and all people who attended our events.
In the photos are people you helped us impact for Jesus this year! There is the blind new believer in Indiaeceiving rice, to the family of new Christians in Pakistan receiving their first Bibles, to us ministering to a tribe who lives on the Amazon river in Peru, to the 2 boys bowing their heads in prayer during one of our outreach school programs in El Salvador, to Hindu girls reading our salvation tracts, and so on! Each of these photos show people that you helped us express the love of Jesus to this year—Thank You! Below are a few of the testimonies we received this year because of your generous prayers and support:
"Lisa," a Burmese girl in India who received Jesus at a youth crusade, said, "I am a sinner, now I have Jesus Christ! Thank you for the Bible, I will read it regularly." "Barry," a Hindu, said, "I believed in Jesus as a prophet only, but I learned that He is a great Son of God!" In Pakistan, "Mark" said, "I have not seen such a great love from God in other religions. I felt peace when I accepted Jesus Christ as my personal Lord and Savior!" Then, "Larry" shared these words, "When I realized I was a sinner, I suddenly was shocked and I needed Jesus to be my Lord and Savior!" For next year, God willing, we have plans to conduct outreach & training & food events in at least as many countries as we did this year! Our ministry is more than 35% below meeting our 2017 budget, which greatly impacts what our ministry can do in 2018. If your heart is moved to help us meet our budget with a special Christmas year-end gift, that would be a wonderful Christmas present to our ministry! I still believe in miracles…especially Christmas miracles!
Merry Christmas,

Scott Nute
Merry Christmas to You and Your Family!