What a journey it has been following Jesus and serving in His Great Commission of Global Evangelization! I never know where a door will open next through which God will send me to bring in a new harvest of souls. Around 25 years ago, soon after I became a Christian, my mom gave my brother and I personalized wall plaques containing our name and a Scripture. Mine said, "'Scott, A Traveler – "Go Into All the World and Preach the Gospel to Every Creature"' (Mark 16:15). I haven't stopped going since.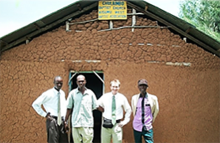 This journey of world evangelism started in 1990 when God sent me to Hachita, NM where, with great fear, I preached for the first time to 8 people in a little Baptist Church. This journey then sent me to preach on the streets of South Africa, and into the schools of the Philippines, and to the radical Hindus of India, and to heartbroken prostitutes on Copacabana Beach in Brazil, and to tiny underground churches in mainland China, and many other fascinating places. Years ago, in the bush of Kenya, I remember preaching in a church made of mud (photo to the left) with cobwebs and spiders above me as I proclaimed the message of Jesus Christ to the few dozen people in attendance. Whether it be to Tanzania to reach a Maasai tribe, or to Haiti to proclaim Light to those in the darkness of Voodoo, or to Hong Kong using baseball to communicate the Gospel, or to Honduras where we will go next month, or…
…after waiting 25 years, God has finally opened the door to conduct my first Arena Crusade in the United States of America! Later this year, September 13-16, 2015, we will conduct a Regionwide Crusade in Hobbs, New Mexico. I actually grew up 240 miles southwest of Hobbs in Las Cruces, New Mexico. This is another long-time dream of mine to come true recently…reaching my own people in New Mexico—in the United States of America—with the Gospel of Jesus Christ through highly organized, regionwide, interdenominational, evangelistic crusades! Preparations have begun in Hobbs, and God has blessed our ministry with an experienced Crusade Director, Dr. Jim Coldiron, a crusade consultant with the Billy Graham Evangelistic Association. Please, pray for Jim as he mobilizes the local churches involved in this evangelistic event. Also, pray for wisdom, guidance, and spiritual power for the local Crusade Committee Chairman, Mr. Kendall Goad, and for Dr. Susan Hill, the initiator of, and secretary for, the Hobbs Crusade.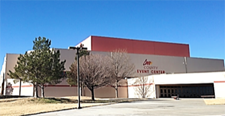 For those of you who live in New Mexico and West Texas (or anywhere for that matter)…come join us in Hobbs, New Mexico, September 13-16, 2015, at the Lea County Event Center (photo below)! Please, join us in spreading the word to all the churches and Christians in New Mexico to pray for this crusade! Join us in praying for  REVIVAL & SPIRITUAL AWAKENING to break out in Hobbs that will transform lives—and their community—for Jesus Christ…to then have revival spread throughout New Mexico…and throughout the United States!
For New Mexico, America, and the World,


Scott Nute