It is "WORLD SERIES" time! October is when the world baseball championship is played; when old memories from over two decades ago return to my mind…the great memories of when God allowed me to play professional baseball as a pitcher in the minor leagues for the Detroit Tigers. To share a brief testimony with you…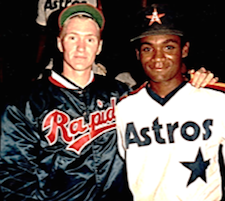 I went on my first mission trip in 1989 with a Christian baseball ministry called "Athletes in Action." We were in Honduras, and it was there that God divinely opened the door for a Latin Scout to sign me to a free-agent contract after he watched me pitch an exhibition game against a Honduran national team. It was a dream come true that God allowed me to play pro baseball as a platform to proclaim the Great News of His Son, Jesus Christ! During my second year of professional baseball, however, I had a "freak" accident to my pitching shoulder that ended my pro baseball career just as suddenly as it had begun. At the time I was devastated, but now, 25 years later, I am so glad the Lord allowed me to get injured and that HE shut the door to play baseball because shortly after the injury God called me to be an evangelist (at first I didn't even know what an evangelist was). Never in my farthest imagination could I have dreamed that God would still be using baseball in my ministry today as a stage to proclaim the Great News of His Son, Jesus Christ. Sports is a major area of common interest internationally and some people who would not normally attend a "religious" event are "drawn" to come and hear a former athlete, and thus hear the Gospel presented. Sports also can open unique doors to reach young people (such as the school outreach in Hong Kong in the photo below). Our next project just "happens" to be in the country where it all began 25 years ago—Honduras! And, guess what is being used as a major part of the publicity for this Crusade?—Baseball! Praises to God for His Sovereign plans!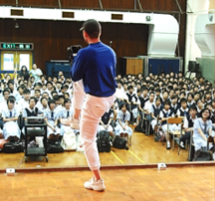 A great verse in the Bible says, "Whatever you do, do it ALL for the glory of God" (1 Corinthians 10:31). Our ministry is doing all we can to use all God gives us to reach and train people to follow Jesus Christ and to be laborers in His Great Commission of reaching the world with the Gospel. Because of the support we receive from people like you, we are able to conduct projects like the one coming up November 4-8 in Gracias, Honduras. Your support covers project expenses for such vital things as: public transportation rentals to bring non-Christians to and from the crusade services, training & follow-up materials, Bibles, sound system & stage rentals, food for the training conferences, posters & flyers, personal travel costs, and other needed expenses. Thank you for your partnership!
Churches throughout the region of Gracias, Honduras have been praying and preparing the past 4 months for this Crusade…praying for people to turn to the forgiveness of sin and eternal purpose Jesus Christ offers to us all! Please, join us in prayer for a powerful move of God to start in, and spread throughout, Honduras!
Still "pitching" the Gospel for Jesus,

Scott Nute
We have upcoming projects in Central and South America. Your prayers for the souls of men, women, and  youth to come to Jesus Christ will pave the way for the Gospel! Please join us in prayer for lives to be changed and transformed from the inside out in these upcoming projects.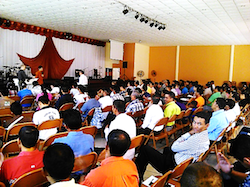 Last month in Honduras 130 pastors and church leaders attended our Pre-Crusade Church Mobilization Training (photo on left). In preparation for the upcoming crusade November 4-8 in Gracias, Honduras, the pastors and church leaders received training in various areas, such as OPERATION ANDREW, a personal evangelism strategy we use where Christians PRAY for, and INVITE, and BRING their lost friends and family to the event. These leaders will now return to and equip their congregations with the same strategy they were instructed with. We also distributed 100 New Testament Bibles and 5,000 evangelism tracts to the local pastors and churches, both in Spanish. For this project we will be working with churches from various denominations in the area and also churches from surrounding villages. We will be proclaiming the Good News of Jesus Christ to the entire vicinity of 35,000 people through an Area-Wide Evangelistic Crusade. In tandem with the crusade, we will take our School Program into local schools to reach students with the Gospel, and we will also invite all the students and teachers to attend the crusade and encourage them to bring their families and friends with them. God is already moving…through the preliminary events we saw 45 people make a public decision for Jesus Christ!
Then, December 3-8 I will travel to Buenos Aires, Argentina, where our ministry will be conducting "Single Church Crusades" in this alpha-city with a metropolitan population of 12 million people. These single church events are essentially the same as our outdoor area-wide crusades, using the same practical mobilization strategies of prayer, personal evangelism training, and post-event follow-up to connect those who commit to Christ to the local church. We will have evangelistic services in three local churches and then conduct a final meeting where the churches will meet together in a neutral location, a theatre. We will also host our Leadership Development Conference, where pastors and church leaders from throughout the area will gather for ministry training.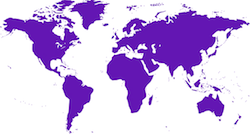 If you will remember to pray for the people of Gracias, Honduras, and Buenos Aires, Argentina, what a blessing that would be! Pray for the Holy Spirit to prepare the hearts of the people to respond by faith when they hear the message of The Cross.
Your prayers and financial support are a continual source of strength and encouragement! Thank you!
For reaching Central and South America,

Scott Nute