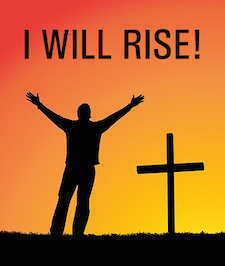 "I WILL RISE!" These words were quietly playing in my mind when I woke up at 3:35am this morning. I gave a little smile, rolled over, and went back to sleep. When I woke again at around 8:30am those same words were still playing in my mind, but now a little louder. I got up and began the day like usual and within a few minutes I was at my desk having my "quiet time." I cannot explain it, but those words were still playing in my head as I read the Bible. It just so "happened" that my daily Bible study was in Revelation chapter 1, where Jesus Christ said, "I am the Living One; I was dead, and behold I am alive for ever and ever!" Those Words from the Bible struck me! This was not just a "typical" daily quiet time but became one of the most intimate and real times I had experienced with the Lord in numerous years! Those words, "I WILL RISE!," stopped me in my tracks…those words had been quietly playing and replaying on the fringe of my thoughts for 3 days, and they finally brought me down to my knees in my apartment living room. Here is when it started:
Two days ago, during the second Sunday morning worship service at our church, the music leader played a new song (or it was the first time I had heard it). The song began slowly and the momentum built up to the peak when two women, who both had voices like some of God's angels, were singing these three words with a tone and harmony that was beyond words—"I WILL RISE!" You would have needed to be there to really "feel" what I mean. My heart and spirit were soaking in those three words like a starved person. I did not want them to stop singing those three words. Those words quietly played in the background of my thoughts from then until 3:35am this morning. It was then that those words, "I WILL RISE!" were moved from just background music in my mind to words of impact in my heart! 
I felt compelled to pass on to you, my friends and brothers and sisters in Christ, those same words—"I…YOU…WE…WILL RISE!" Someday there will be…no more barking dogs at 6am, no more rushing to work through traffic, no more cancer, no more broken bones, no more laundry, no more strokes, no suffering children, no more stress over anything, no more need for food or water or personal hygiene. Someday, WE WILL RISE to non-stop heavenly life! And after we rise, none of the following will exist: problems or pain or depression or the need of anti-depressants; no more divorce lawyers; no more Christians being persecuted; no more bickering between church members; no more jealousy; no more bad credit; no more watching a spouse need brain surgery; no more watching little babies with cleft palates…all this "human" stuff will finally be over! 
The past year, in a more precise way than usual, my "insides" have been aching to be free from my own flesh, to be free from my humanity…my sinful nature…my "human-ness." Perhaps you can relate? As those two women sang those beautiful words, "I WILL RISE!," for a few brief seconds I think God allowed me to have a glimpse of the freedom of "rising" and I "felt" liberated from my flesh. Someday, because I know Jesus personally, I WILL RISE above the limitations of being a human and will pass through death and enter eternal life in Heaven, and there, somehow, in some new way, life will truly begin! I will get to see my mom and brother (though they are still alive now) in a new, eternal way. And, how awesome it will be to see Moses and Noah, and Isaiah and Jeremiah, and Job, and King David and his son Solomon, and Matthew and Mark and Luke and John (John, the writer of the famous Bible verse, John 3:16). Plus, we will get to see the Apostle Paul who wrote most of the New Testament in our Bibles. We will get to meet the parents of our Lord and Savior Jesus Christ, Joseph and Mary. And, of course, we will finally get to see what Jesus looks like and see Him smile! Can you imagine what it will be like? It is going to be so wonderful to see all my friends from throughout a lifetime, those who had turned to Jesus at some point in their lives, even childhood friends from my hometown, Las Cruces, New Mexico, and even from my birth town, Moberly, Missouri! I want to see my first pastor from 25 years ago, the one who baptized me and licensed me into ministry, who died a few months ago. I want to meet Christians in Heaven I was never able to meet in this life, such as D.L. Moody, Billy Sunday, and Billy Graham. Who are you looking forward to spending time with after you rise into eternity?
There is no specific practical reason I am writing this other than to share with you what encouraged me this morning, that—WE WILL RISE…YOU WILL RISE…and I WILL RISE! If you know Jesus Christ personally and have been born-again, someday you will rise to true life! And it will be then when all of us will be together—finally & forever—in the everlasting place the Bible has called HEAVEN! If you have not yet repented and surrendered your heart to Jesus Christ as your personal Lord and Savior, do it right now so that after you die "YOU WILL RISE" too and spend eternity with all of us in Heaven! 
"As for you, go your way till the end. You will rest, and then at the end of the days YOU WILL RISE to receive your allotted inheritance" (Daniel 12:13).
Jesus Christ said, "I am the resurrection and the life. The one who believes in me will live, even though they die" (John 11:25).
(Author, Scott Nute, May 13, 2014; revised, May 12, 2015)