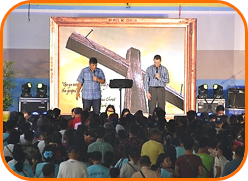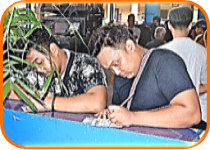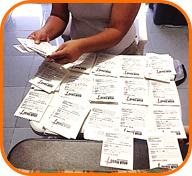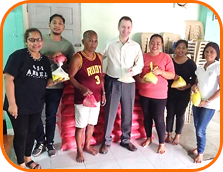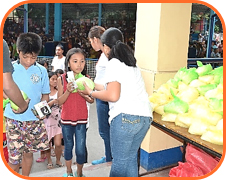 God moved in Manila, Philippines through our outreach & training project on February 5th-10th! The result: 4,778 Filipino men, women, youth, and children, came to the Cross and gave their hearts to Jesus Christ! Your prayers & support made possible the glorious report below—Thank You!
There were 157 pastors and their respective 107 churches trained in advance for this crusade & school project by our Asian Director, Lourdman Cabuenos (who is translating for me at the crusade in the top photo). The average congregation size of these churches was 25-35 people. Hundreds of Christians in these churches were trained in how to tell people about Jesus, and in how to help new Christians get connected to one of the churches for spiritual growth and ministry service! After going through our training, each Christian, on average, brought 3-4 non-Christians and/or un-churched people to the crusade to hear the Good News of Jesus Christ! That was an amazing application of our personal evangelism strategy—Operation Andrew! The significance of the training these Christians received is that they can now use this training for the rest of their lives!
The 2nd photo is two men who, after praying to receive Christ, are filling out their decision cards! The cards were then given to a Crusade Counselor, who then turned them over to the crusade leaders. Then, in the 3rd photo, each decision card was sorted and distributed to the pastors involved in the crusade so their churches can begin the follow-up. Join us in praying for the spiritual growth of the Filipinos who made commitments to Christ! An interesting testimony happened when our crusade director was asked by a school teacher (we spoke in numerous public schools on drug awareness) to pray for his 25 year old son. His son had been in a coma for one month from a viral infection in his brain. After praying for a miracle, the next day our director received a call from the father of the young man in the coma. The father said his son miraculously awoke from his coma, and that he is now recovering! Though our ministry is focused on evangelism, we do sometimes witness God do a miracle in the life of someone! To summarize this crusade & school project, here is what our director said, "the grand outcome of the crusade was unprecedented, the churches that were involved are now doing the follow-up, and they are seeing great harvests in their churches!" 
We rented public transport buses that brought thousands of people to the crusade to hear all about Jesus! Plus, due to your support, not only did we provide free transportation but we also gave over 2,000 pounds of rice (4th photo: our team standing in front of the rice) to 3,207 people (5th photo: each family member was given a portion of rice)!
Special Update: you may remember in May of 2017 two pastors on Siargao Island of the Philippines were ambushed and shot while helping our ministry prepare their island for a crusade. A youth pastor, age 30, was killed during the attack. The island police recently caught one of the men involved in the shooting. He was hiding in the island mountains. Upon being arrested, he confessed that he and another man, who are both members of a local violent cult, were paid money by a leader in the cult to shoot the pastors. They shot the pastors to stop our islandwide crusade from taking place. Let's pray for this man to repent of the evil he did and for him to turn to Jesus for forgiveness & salvation!
Till World Harvest is Complete,

Scott Nute