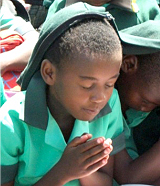 Greetings to you! As I think toward Christmas, the truth hits me that this special day is not just to celebrate the birth of a Baby born in the manger, but the birth of a King…God's King, God as King! The Bible says Jesus Christ was, is, and always shall be, the "King of Kings and Lord of Lords!"
In His Name, the King of Kings, our ministry traveled to three countries this year—the Philippines, India, and South Sudan—to reach and train people with the Gospel of Jesus Christ. Here are our ministry results for 2013:
5,435 people publicly turned to Jesus Christ as their personal Lord and Savior during our crusades, school programs, and local church outreaches!
1,426 pastors and church leaders attended our Leadership Development Conferences where they received training and were given ministry resources!
We conducted our largest evangelistic crusade to date in Machilipatnam, India, with a 2-night attendance of 39,000! And, we have invitations from several cities in India to return for more crusades and conferences in 2014!
We distributed 1,050 Bibles in various local languages to church leaders who either did not own their own Bible or will give them to church members in need of a Bible!
We distributed 146,000 salvation Tracts in various languages to church leaders and members, and to those who attended our crusades and events in churches and schools!
We distributed over 4,000 pieces of Discipleship materials to church leaders and ministry-minded Christians!
Of all the life-changing testimonies we heard this year, the most touching was from a pastor in South Sudan who attended our Leadership Development Conference. He told the first-hand story about another pastor, a dear friend of his, which happened during the war when South Sudan was not yet free from the extreme Islamic rule of Sudan. He told us how this pastor was called by God to go into the mountains and see how the Christians hiding there were doing. In these mountains were religious extremist "soldiers" who shot and killed this pastor. News spread to his family and friends and they went to get his body to give him a proper funeral. When they found him they also found his personal bag and noticed that inside the bag were his "death clothes." In their culture you choose in advance what clothes you want to wear at your funeral…this pastor was ready to live or die for Jesus and he ended up giving his life, knowing in advance that most likely he would die! I had to tell this man's story because it reminds me of what our King of Kings and Lord of Lords did for us…Jesus came, and was born, knowing in advance He would go to the cross…yet He came anyway, because He loves you, me, and every person that much!
It is because of people like you who give and pray for our ministry that we were able to see God have such an impact during our projects this year! We need your help to do the same next year. As the Lord moves your heart, your special Christmas gift will help us reach and train lives around the world next year with the Gospel of Jesus Christ! Your generous year-end donation sent today is deeply appreciated! Our website is available where giving a donation online is Safe, Secure, and Easy. To you, our partners who give so graciously, I say…thank you for helping us share the story of Jesus Christ with the world!
Merry Christmas,

Scott Nute