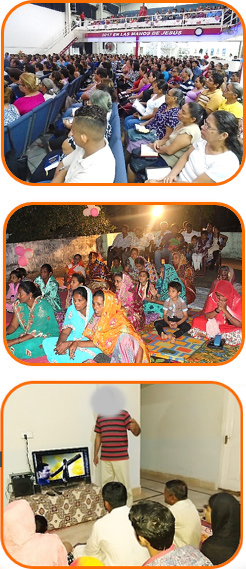 The past 2 months God has spread His Message through our ministry in a multi-cultured way! Our various teams conducted evangelistic & training events in these 4 countries: El Salvador, the Philippines, India, and Pakistan. Here is an overview:
In El Salvador February 15th-20th, our team conducted Community Crusades in 4 regions of El Salvador (photo on top right)! And, we spoke in public schools reaching a few thousand students with the Gospel! 334 people committed to Christ!
In the Philippines February 20th-24th, another phase of advance mobilization was completed for our upcoming Island-Wide Crusade, May 11-12. Our Philippine Event Director, Lourdman Cabuenos, taught our personal evangelism & follow-up system (churches are seeing people come to Christ before the crusade as a result of applying the Operation Andrew strategy)! Plus, Lourdman shared the Gospel in public schools on Siargao Island…over 500 students said YES to Jesus (photo left)!
Last month on March 12th in India (middle photo), and on March 24th in Pakistan, in the area of the world called the 10/40 Window, our ministry conducted our first E-Events (electronic evangelism events)! We partnered with churches in these countries and gave them a custom-made video of one of my messages—THE CROSS! This video was designed to be interpreted specifically for these electronic events in other nations. In the photo on the right, our video is being shown in Pakistan on a TV that we rented. As I share The Cross message through the video, the Pakistani pastor is translating the message into Urdu. To protect their identities, we cannot share the pastors' names. But, we can tell you that in India 61 people attended the event with 21 people repenting and trusting Jesus Christ; and, in Pakistan 63 people (16 children) attended the event, and 12 people made public decisions for Jesus Christ!
For countries in the 10/40 Window it could mean persecution for people who turn to Christ. Please, pray for these new believers and for these churches in India and Pakistan! Our ministry is also providing Bible study resources and ministry tools to these churches to assist in the discipleship of the new believers. As God provides, we plan to continue using technology to impact the nations for Christ, especially the nations that are closed or almost closed to the Gospel.
Here is the eternal fruit from our last 2 months of ministry in El Salvador, the Philippines, India, and Pakistan:
More than 867 people made public decisions of repentance and faith in Jesus Christ!
Over 4,100 church leaders and Christians were trained in our personal evangelism & follow-up system (the same system created by the Billy Graham Evangelistic Association that we were given permission to duplicate and use)!
42,000 Salvation tracts were distributed to church leaders and to Christians for their ministries and personal use! And, every person who committed to Christ was given a tract to share with their family and friends!
We thank and praise God for allowing our team & our partners to have a part in what He is doing throughout His world!
Because HE said "Go,"

Scott Nute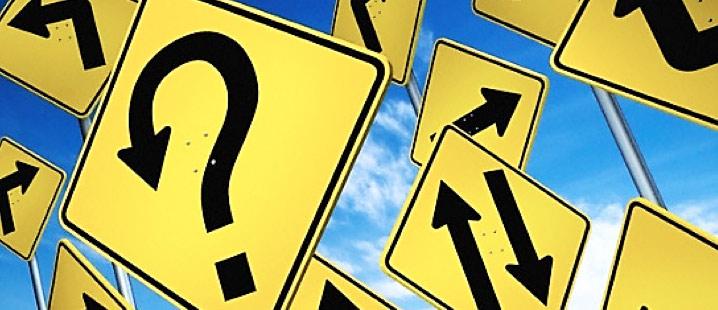 Around 27 years ago I found myself at a major life crossroads. This humongous decision had to be made soon…is it the will of God for me to go to Seminary after graduating from college, or not? It may be different circumstances, but I know that you too have made difficult life direction choices. So, you can relate to this crossroads I was at.
In the USA, when a man is called to preach, it is pretty much a no-brainer that he goes to Seminary, especially given the particular denomination I started ministry in. So, I set my plan, which was a good and Biblical plan, that when I graduated from college I would go to Seminary. I even had a school picked out. This was in the fall of 1990. About 2 years later, in the summer before my last semester of college, "something" began to "whisper" to me on my insides. In strange ways I began to sense God revealing to me that it was NOT His will for me to attend Seminary. For weeks I deflected this as satan messing with me, or that it was my flesh, or that the wind was blowing in the wrong direction. This whisper then began to evolve into a "direct force" that began to annoy me. Again, I deflected it. Over the next few weeks this direct force began to evolve into a "pressure" that "felt" like "something" was "squeezing" me from my insides. I began to be miserable, and the thought of moving forward in my plan to attend Seminary began to "feel" like it was the last thing in the world I was supposed to do. Again, I deflected all of this and fought it. This "squeezing" was now keeping me up at night, and stressing me out, and interrupting my appetite. Then, it finally hit me, "Could this ACTUALLY be God Himself speaking to me and saying to me it was NOT His will for me to go to Seminary?"   
To make this story more condensed, I will say the summer when all of this took place (1992) was not a pleasant summer at all! After several weeks of prayer, fasting, and falling on my face before God, I knew, that I knew, that I knew, that God had revealed His will to me…I was to leave school, not go to Seminary, and enter full-time evangelism. My mentors, and friends, and my mom, were very concerned about this decision (and rightfully so), but at this point all they could do was pray for me and wish me the best.
Well…if you are expecting me to say that after I made this decision final and public that huge doors opened for my evangelistic ministry, and that I never had doubts about this decision again, you would be incorrect. After this decision I still had doubts, and satan conducted target practice on me for the next couple of years about this decision. However, as the days and the weeks and the months and the years went by, and I followed Jesus one day at a time, it became clear not just to me, but to everyone else, that it actually was God who spoke to me back then. Now, 27 years later, without a doubt, it was the right decision for me personally! Today, as I write, I am 100% confident I heard from God way back then and that I obeyed Him and made the right choice!
Now, by sharing this story, I am in no way saying to anyone, "Don't go to Seminary!" Actually what I am saying, and what I have suggested to dozens of young preachers over the years, is to plan on attending Seminary or a Bible School and if God doesn't want you to go, He will make it clear…perhaps even "painfully" clear. I encourage every person to get as much education as the Lord reveals they are to get…plan to go, and let God open or close the door!
We all encounter important crossroads in our walk with Jesus Christ that require hard decisions. The following are some practical Biblical principles I have learned (and am still learning) that we can use when making decisions about God's will for our lives:
Intimate Direction: a former mentor once told me, "God is more concerned with us as human beings than as human doings." God's will and direction for us is revealed as a byproduct of our "being" in an intimate love relationship with Jesus Christ. "And this is my prayer: that your love may abound more and more in knowledge and depth of insight, so that you may be able to discern what is best…" (Philippians 1:9-10).
Mysterious Call: It may be vague at first, and somewhat "quiet" and intangible, but it is not uncommon for God to be a bit mysterious when He first begins to "call" us to serve Him. Now, by "call" I am not necessarily referring to a preacher or vocational ministry, but rather to every Christian. Each of us has an area of service, and how are we to know where and when God wants us to serve Him if He doesn't somehow tell us or "call" us. "For it is God who works [calls] in you to will and to act according to His good purpose" (Philippians 2:13).
Desires: The Lord uses our desires to guide us. Now, not every "desire" we have equates with the will of God. We need to lay our desires at the cross, and if our desires are not aligned with God's will, He will adjust our desires, if we let Him. God can use our desires as motivation to do His will. What do you desire to do for the Lord that will bring glory to Him, and will impact others for Christ, and will bring satisfaction to you? "I will run in the way of your commandments, when you enlarge my heart [desires]" (Psalm 119:32). 
Gift Match: Each Christian has at least one spiritual gift. Many Christians have several gifts mixed together, and one or more of these gifts will be the dominant gifts, supplemented by the others. What are your spiritual gifts? If you don't know, I suggest you take a spiritual gifts test, which you should be able to locate through your church. Your spiritual gifts will fit and match with numbers 2 & 3 above…your call to ministry service and your desires will fit with your spiritual gifts. "He…gave gifts to men [Christians]" (Ephesians 4:8).
Confirmation: In various ways, God will surely confirm what He wants us to do and where He wants us to go. Through the Bible, and through trusted Christian friends, and through preachers, and through circumstances, and through unlimited ways (even through a donkey), God is able to speak to us and to confirm to us the direction He wants us to go in, and what He wants us to do. "Then the Lord opened the donkey's mouth, and it said to Balaam…" (Numbers 22:28). 
Open Door: By open door I am not saying we should just to sit back, and wait, and expect God to open a door right in front of us. Sometimes, a door opens after we take the initiative to "knock" and pursue and explore. And, yes, God most definitely can open doors and "throw" opportunities right in front of us. It can be a combination of both. "What He opens no one can shut, and what He shuts no one can open" (Isaiah 22:22b). "In his heart a man plans his course, but the Lord determines his steps" (Proverbs 16:9).
Faith: At some point we have to step out in faith! It may be a logical step, or an illogical step, but ultimately faith is an absolute must! God has done His part by speaking to us and revealing His will to us. Now it is time for us to do our part and act…take the next step of faith! "We walk by faith, not by sight" (2 Corinthians 5:7). "Without faith it is impossible to please God" (Hebrews 11:6).
Seeking Him, His will, & His direction,

Scott Nute