It was two years ago this month when, after months of prayer, study and counsel, I made the decision to go out by faith and re-incorporate this ministry. The final Word of confirmation the Lord gave me that the time had come to do this was from Ezekiel 26:2, where the Bible says, "The gate to the nations is broken, and its doors have swung open to me."
The God of Israel, by His sovereign will and power, has swung open the door for our ministry to conduct a major pioneer project in the world's newest country that is now free from Islamic rule—South Sudan! We received an invitation from the South Sudan Council of Churches, the nation's primary group of church leadership, to conduct a follow-up project after the recent Franklin Graham festival held in October 2012. To read the report from that event visit the Billy Graham Evangelistic Association's website at: http://www.billygraham.org/articlepage.asp?articleid=9009
Our ministry board and advisors are already deep in prayer, asking God to reveal what He wants to do through our ministry to reach and train lives not only in Juba, the capital of South Sudan, but also throughout the entire country! PLEASE join us in prayer, that God will give us guidance, discernment, and wisdom in following His will!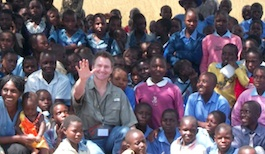 We have a vision of having both a short-term and long-term impact in South Sudan! In October 2013, our team will be traveling to Juba to conduct Stage 1 of this project, which will consist of an extensive two-day Leadership Development Conference where we plan to bring in as many leaders as possible from throughout the country to the conference in Juba. Plus, we have been given access to conduct our school program in every high school, junior high, and college in the country. We will also continue the mobilization of all the churches for the next stage that will take place…
In October 2014, our team will return to Juba for Stage 2 when we will conduct a large-scale Festival Crusade at the Memorial Park that we believe will impact the entire nation of South Sudan! By the time Stage 2 arrives, we will have been praying for, working with, and training the local pastors and churches for a year and a half. This will help equip the South Sudan Body of Christ not just for a harvest of new souls ready to enter the local churches for discipleship, but will also help strengthen the South Sudan Christian foundation upon which future generations can be built! Plus, we will conduct a second Leadership Development Conference and a second layer of outreach programs in numerous schools.
Between now and October 2014 we will be doing all we can, with God's power and help, to network, to bring, to send, and to partner with like-minded churches and organizations so we can all work together to help this new country build a strong Christian legacy based on the Bible! The needs in South Sudan are great and we are praying God will bring others to help with Bibles, education, vacation Bible schools, water wells, clothing, short-term mission teams, women's ministries, literature, and books on mentoring, family, parenting, church leadership, etc. We will be sharing more details and updates about the South Sudan project periodically to keep you informed of the progress and opportunities.
To add to this, God has opened doors for us in India! For months we have been doing preliminary preparations in South Central India, where our ministry is working with churches from numerous denominations for an upcoming area-wide Festival Crusade and a Leadership Development Conference. Next month, I'll share more details about this project.
Again, please join us in prayer for these tremendous opportunities God has opened for our ministry in South Sudan and India! It is the support from you, our friends and partners, that God uses to make all this possible! Thank you!
Through His open doors,

Scott Nute