Multi-Cultural Message – 4 Countries in 2 Months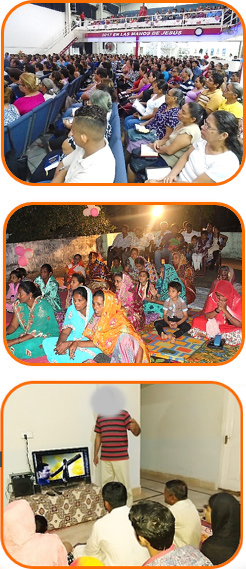 The past 2 months God has spread His Message through our ministry in a multi-cultured way! Our various teams conducted evangelistic & training events in these 4 countries: El Salvador, the Philippines, India, and Pakistan. Here is an overview:
In El Salvador February 15th-20th, our team conducted Community Crusades in 4 regions of El Salvador (photo on top right)! And, we spoke in public schools reaching a few thousand students with the Gospel! 334 people committed to Christ!
In the Philippines February 20th-24th, another phase of advance mobilization was completed for our upcoming Island-Wide Crusade, May 11-12. Our Philippine Event Director, Lourdman Cabuenos, taught our personal evangelism & follow-up system (churches are seeing people come to Christ before the crusade as a result of applying the Operation Andrew strategy)! Plus, Lourdman shared the Gospel in public schools on Siargao Island…over 500 students said YES to Jesus (photo left)!
Last month on March 12th in India (middle photo), and on March 24th in Pakistan, in the area of the world called the 10/40 Window, our ministry conducted our first E-Events (electronic evangelism events)! We partnered with churches in these countries and gave them a custom-made video of one of my messages—THE CROSS! This video was designed to be interpreted specifically for these electronic events in other nations. In the photo on the right, our video is being shown in Pakistan on a TV that we rented. As I share The Cross message through the video, the Pakistani pastor is translating the message into Urdu. To protect their identities, we cannot share the pastors' names. But, we can tell you that in India 61 people attended the event with 21 people repenting and trusting Jesus Christ; and, in Pakistan 63 people (16 children) attended the event, and 12 people made public decisions for Jesus Christ!
For countries in the 10/40 Window it could mean persecution for people who turn to Christ. Please, pray for these new believers and for these churches in India and Pakistan! Our ministry is also providing Bible study resources and ministry tools to these churches to assist in the discipleship of the new believers. As God provides, we plan to continue using technology to impact the nations for Christ, especially the nations that are closed or almost closed to the Gospel.
Here is the eternal fruit from our last 2 months of ministry in El Salvador, the Philippines, India, and Pakistan:
More than 867 people made public decisions of repentance and faith in Jesus Christ!
Over 4,100 church leaders and Christians were trained in our personal evangelism & follow-up system (the same system created by the Billy Graham Evangelistic Association that we were given permission to duplicate and use)!
42,000 Salvation tracts were distributed to church leaders and to Christians for their ministries and personal use! And, every person who committed to Christ was given a tract to share with their family and friends!
We thank and praise God for allowing our team & our partners to have a part in what He is doing throughout His world!
Because HE said "Go,"

Scott Nute