An Orphan Finds Hope in Uganda!
As Thanksgiving approaches it is such a blessing to share Good News with you from our recent project in Uganda. Hundreds of lives were reached and impacted with the Gospel of Jesus Christ, and we give thanks to God for this!
Our team spoke in 21 schools, 5 church services, a leadership conference attended by 125 pastors, and a crusade. Team members, such as Charlotte in the photo below, spoke on vital life issues that connected with the people of Mbarara, Uganda, issues such as: making wise Biblical decisions, academic excellence, sexual abstinence until marriage, and more. We also distributed 70 Bibles and 40,000 salvation tracts in English and their local language, Runyankole.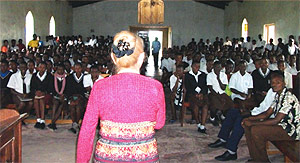 After one of our local church events, a young Ugandan man named Brian was brought to me by one of the pastors. He was 23-yrs old and had been an orphan since age 3 when both of his parents died from AIDS. He had no memory whatsoever of his father who died first, and a very small memory of his mother who died soon after. Later on, his brother and only sibling also died of AIDS. Brian was already a Christian, yet he was still having deep pain, grief, and confusion over all the losses he had experienced in his lifetime. The day before I was to speak in his church he had been considering suicide; he told me he had so much pain inside he was telling God, "Why must I continue to suffer so much…why does everyone I love die?" It just so happened that a point of my sermon that morning from Jeremiah 29:10-13 was "The Wounded Heart." I told of some of my losses and hurts during life, and how Jesus Christ has helped me to process the pain, heal, move into closure and freedom, and to then begin sharing hope for wounded hearts to people around the world through my testimony. Brian said to me, "You were speaking just to me in your message…God has given me the hope I have desperately needed to move on!" He said his purpose now is to take the hope of Jesus to the hopeless! Brian's testimony touched me, and I asked him if I could share his testimony in our ministry update because people around the world would be inspired by his story. Brian, if you are reading this, thank you for talking to me and sharing your story…God is using you to bring Hope to the hopeless!
Another highlight of this project for me personally was being asked to dedicate a baby to God after one of our church events (photo to the right)! A pastor and his wife bestowed upon me the great honor of dedicating their one-month old baby girl, Patience. She began to cry during the prayer of consecration…it was one of the most beautiful sounds I had ever heard!
God moved deeply in the hearts of many people during our Uganda Project. We saw over 2,000 people make a public commitment to repent of their sins, leave their old life behind, and surrender control of their life to Jesus Christ as their personal Savior and Lord! The 70 local churches we worked with have already begun the contacting and follow-up of these people and are providing next step spiritual growth opportunities in their local churches.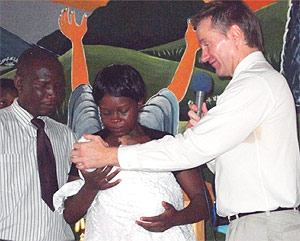 As we enter the holiday season and this year comes to an end, I want to mention to you that in March 2013 partners of our ministry are working with us to host "BENEFIT DINNERS" in Houston, TX, March 8; Albuquerque, NM, March 15; and Las Cruces, NM, March 16. If you are interested in attending one of our benefits, or, if you are interested in helping our ministry host a benefit in your area, please contact us at: info@scottnute.org or call 713-277-8638.
Have a wonderful Thanksgiving and thank you for your support and ministry partnership!
For bringing Hope to the hopeless,

Scott Nute