Crusade of Hope recap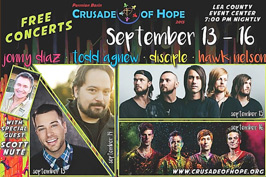 The Crusade of Hope we just conducted in Hobbs, New Mexico (my home-state) on September 13-16 was a special experience! What a unique blessing it was to have some dear long-time friends from throughout NM attend the crusade, where we caught up on some wonderful fellowship! The Spirit of God moved through the crusade and impacted hundreds of lives throughout the Lea County NM area. With a population around 35,000 people, Hobbs consists mainly of smaller churches, and 24 of these churches united together for this event. In total, we reached close to 2,000 people with the Good News of Jesus Christ, and 94 people made a public decision for Jesus Christ during the event, of which 29 were people who made a first-time decision to repent and surrender to Jesus Christ as their personal Lord and Savior! Join us in prayer for these precious lives who made commitments to the Lord, as they now begin to be nurtured into disciples through the involved local churches.
Here are a few testimonies of lives that were impacted: Several professors and coaches at a local college offered extra credit to their students if they attended the crusade…several students attended and two accepted Jesus Christ! Another woman, who turned to Christ a few months ago, invited her daughter to the crusade. The daughter attended the last night, and during the last call of the last stanza of the invitation, she came forward and surrendered to Christ! A man whose 21-year-old daughter recently passed away was deeply touched by a testimony from one of the band members. He received counsel and his faith in Christ was reinforced, and he was connected to a local church for spiritual growth and also for grief counseling. Your ministry partnership helped us to touch these lives with the love of Jesus Christ!
Next up—our Latin American team is fast at work preparing for our upcoming crusade in Santa Rosa, Honduras, November 4-7! Christians and church leaders in the involved local churches are already being equipped and mobilized for this unique event, and they are preparing to see their family, friends, and neighbors, turn to Jesus! I look forward to sharing more details with you next month about this exciting opportunity!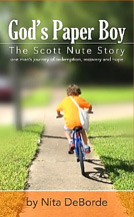 Last year a friend from church, writer Nita DeBorde, contacted me in regard to us working together to write a biography about my life and ministry. The book—God's Paper Boy—is now finished. If you would like to purchase copies, the book is available on Amazon in both paperback and Kindle e-book versions.
Thank you for your support and prayers! Your partnership in the Gospel is helping to change the lives of individuals and families throughout America and the globe!
For changing lives…worldwide,


Scott Nute