Global Projects Update
Greetings to you our dear friends and ministry partners! Reports continue to come in to our staff in the Philippines sharing news from our recent project of how the Lord spoke into the lives of many people in various ways. Of the more than 9,600 people we saw make decisions for Christ in the Philippines, some Christians shared testimonies of committing to a fresh burden for personal evangelism, while others took the next step in the ministry calling God has on their lives, and others told of God giving deep words of inspiration and hope that they needed to move forward through great tragedies and traumas in their lives. God moved in the Philippines and you, our partners, helped our team (photo on the left) penetrate these lives with the Word of God!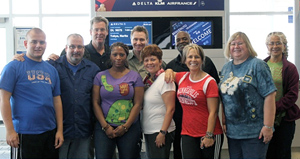 One of my prayers and hopes for this recently completed project in Manila, the capital of the Philippines, was that our Leadership Development Conference would be used by God as a catalyst to see more doors open for ministry throughout the Philippines. The Lord graciously answered these prayers…we have 8 provinces scattered throughout the country of the Philippines desiring to have our ministry for future projects!
We also heard additional updates from our project held this April in India…21 new Christians have been baptized as a result of our evangelistic event! Over 150 village churches prayed and worked for months for this project, leading to over 250 people deciding to repent and turn to Jesus Christ and leave their false gods of Hinduism. Those who have been baptized are risking persecution by making such a bold public commitment to Jesus Christ! Join us in prayer for these new Indian believers…pray for God's power to protect them, mature them, and use them greatly for God's Kingdom!
Since the age of 23 (I am now 45-years-old) I have had a strange "intangible" dream of conducting large-scale mass-evangelistic events in stadiums, arenas, and open fields around the world. My vision is to conduct our School Programs and our Leadership Development Conferences in tandem with these mass-evangelistic events. You can join us in prayer as to where and when God wants us to host future projects; pray for God to move the hearts of His people to give support that will literally send us out to various nations so we can continue to reach and train more people around the globe with the Gospel of Christ! What great opportunities the Sovereign Lord continues to open up before us!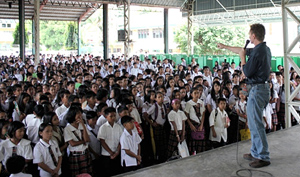 Last year, when we reincorporated this ministry, God gave me a verse to clearly confirm the time was here to step out by faith and restart this ministry. This verse is Ezekiel 26:2, which says, "The gate to the nations is broken, and its doors have swung open to me." I must give complete glory and thanks to God for what He is doing through our ministry! It is exciting to tell you that we are now preparing to proclaim the Gospel of Jesus Christ in our next nation—Uganda, which is located in East Africa! With anticipation, I look forward to sharing details with you next month of this upcoming project, and how you can play a direct part in helping us reach and train thousands of Ugandans with the Gospel! Until then, have a wonderful month as you live for and share the message of Jesus Christ!
For nothing less than…global evangelization, I am sincerely yours,

Scott Nute