Hope and Encouragement Hits South Sudan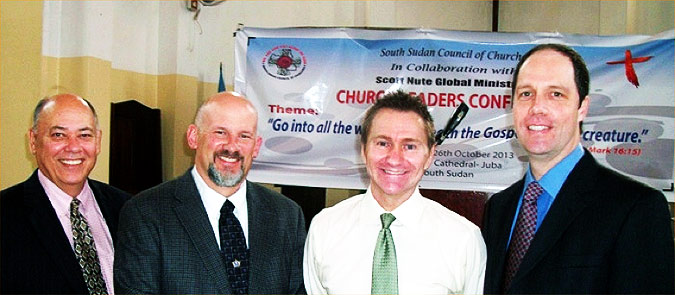 Our team just returned from South Sudan! We witnessed the Spirit of God sweep through the events we conducted and hundreds, if not thousands, of lives were impacted and saved! We give the Lord glory for the work HE did!
Church leaders traveled from throughout the region to gather in the capital city of South Sudan, Juba, for a 3-day Leadership Development Conference. The 75 pastors, evangelists, missionaries, and various church leaders who attended the conference heard solid, practical messages and testimonies from the Bible with the following theme—"Encourage, Equip, & Empower!" Bible teacher Mike Scalf, Pastor Todd Patton, SNGM Board Member Chris Heitman, and myself, poured our hearts into the lives of these men and women of God!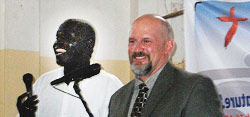 Many of these South Sudanese leaders had faced some level of persecution, war, and trauma in the past after decades of living under radical Islamic rule while South Sudan was part of Sudan. This was the first conference since South Sudan became an independent nation in 2011 that was held specifically to help, equip, and provide resources to the church leaders…what a privilege it was for our ministry! Many of these leaders received a much needed "boost" from the Holy Spirit that will help them enter into the next phase of ministry before them. Several church leaders rededicated their ministries and even their lives to Jesus Christ! Others received emotional hope to help them process, on a deeper level, the horrible traumas they experienced in the past. We distributed 30,000 pieces of evangelism materials in their local Arabic language, and also gave 4,000 discipleship booklets…each church leader was given approximately 50 discipleship booklets and 75 evangelism tracts that they in turn will use to train other leaders and members of their churches. It was your support that enabled our ministry to provide the transportation, food, and resources, so these church leaders could have a "retreat" away from their busy lives and ministries! 
The response we saw to the Gospel of Jesus Christ during our numerous evangelistic outreaches in local churches and schools was clear and penetrating. We watched over 1,400 students, teachers, and others express personal repentance of sin by turning to Jesus as their Savior and Lord! After one service a young South Sudanese man approached me and said, "I accepted Jesus as my Lord and Savior…TODAY!"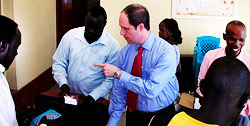 In addition, we conducted a 3-night "open-air revival" with the goal of helping grow a newly planted church. The Spirit of God moved as 217 individuals publicly asked Jesus to be their Savior and Lord! This new church, Blessing Network Church, has already begun the follow-up of these new believers and will be baptizing them in a local river.
Over the past month the Lord Jesus Christ did life-changing work through both our projects in India and South Sudan! Thank you to those who prayed and gave support to help us see individual lives and entire families changed through the power of the Gospel of Jesus Christ
Sincerely,

Scott Nute