PRAY for Honduras & Argentina!
We have upcoming projects in Central and South America. Your prayers for the souls of men, women, and  youth to come to Jesus Christ will pave the way for the Gospel! Please join us in prayer for lives to be changed and transformed from the inside out in these upcoming projects.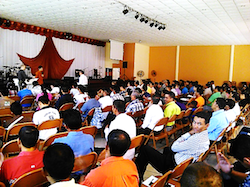 Last month in Honduras 130 pastors and church leaders attended our Pre-Crusade Church Mobilization Training (photo on left). In preparation for the upcoming crusade November 4-8 in Gracias, Honduras, the pastors and church leaders received training in various areas, such as OPERATION ANDREW, a personal evangelism strategy we use where Christians PRAY for, and INVITE, and BRING their lost friends and family to the event. These leaders will now return to and equip their congregations with the same strategy they were instructed with. We also distributed 100 New Testament Bibles and 5,000 evangelism tracts to the local pastors and churches, both in Spanish. For this project we will be working with churches from various denominations in the area and also churches from surrounding villages. We will be proclaiming the Good News of Jesus Christ to the entire vicinity of 35,000 people through an Area-Wide Evangelistic Crusade. In tandem with the crusade, we will take our School Program into local schools to reach students with the Gospel, and we will also invite all the students and teachers to attend the crusade and encourage them to bring their families and friends with them. God is already moving…through the preliminary events we saw 45 people make a public decision for Jesus Christ!
Then, December 3-8 I will travel to Buenos Aires, Argentina, where our ministry will be conducting "Single Church Crusades" in this alpha-city with a metropolitan population of 12 million people. These single church events are essentially the same as our outdoor area-wide crusades, using the same practical mobilization strategies of prayer, personal evangelism training, and post-event follow-up to connect those who commit to Christ to the local church. We will have evangelistic services in three local churches and then conduct a final meeting where the churches will meet together in a neutral location, a theatre. We will also host our Leadership Development Conference, where pastors and church leaders from throughout the area will gather for ministry training.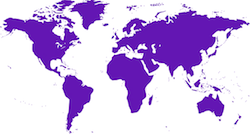 If you will remember to pray for the people of Gracias, Honduras, and Buenos Aires, Argentina, what a blessing that would be! Pray for the Holy Spirit to prepare the hearts of the people to respond by faith when they hear the message of The Cross.
Your prayers and financial support are a continual source of strength and encouragement! Thank you!
For reaching Central and South America,

Scott Nute