Pray for our upcoming Philippines project!
It is with anticipation that I write to you today. Our team is making final preparations for our upcoming outreach and training project February 16-23 in Mindoro, Philippines. I can hardly wait to proclaim the Gospel of Jesus Christ and see people come to the cross!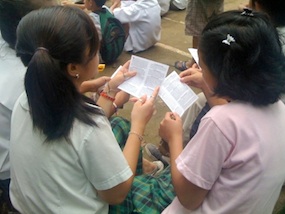 We will be reaching thousands of students in our school programs that will be held in numerous schools throughout the Western Mindoro region, a province of the Philippines. Our team will be sharing testimonies, distributing thousands of pamphlets containing the plan of salvation (see photo to the left), and communicating the Good News of knowing and following Jesus Christ!
During this project we will also host our Leadership Development Conference that will be attended by church leaders and ministry-minded Christians from dozens of churches. Most, if not all, of these church leaders live and serve God in very primitive circumstances as many Philippine provinces have very limited access to vehicles, the internet, e-mail, and other "luxuries" most of us take for granted. We will be pouring out our hearts to inspire, encourage, and help train these leaders for effective and fruitful ministry! As God provides, we will give Bibles to those who do not own their own Bible.
Our native Asia advance team has been on location twice preparing the local churches for this project. A major component of the advance work is training Christians to counsel and follow up with those who make a commitment to Christ and help assimilate them into a church.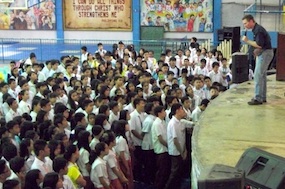 We will also conduct our area-wide crusade event that the local church leaders are calling a "Family Festival." This event will saturate the entire area with the message of Jesus Christ, planting seeds of the Gospel in thousands of lives. Please join us in prayer for many families—men, women, youth, and children—to give their lives to Jesus!
Thank you for your prayers and generous support that will help us see lives changed forever in the Philippines!
You are warmly invited to attend one of our upcoming "BENEFIT DINNERS" taking place March 8 in Houston, TX at my home church, Houston's First Baptist Church; and March 15 in Albuquerque, NM; and March 16 in my home town, Las Cruces, NM; and April 5 in the Niagara Falls, NY area where I played professional baseball for the Detroit Tigers minor-league system. A way you can help our ministry grow is by being a "Table Host" at a benefit. A table host simply contacts, invites, and brings people they know to join them at their table and allows me the opportunity to meet their friends. Our ministry is providing a complimentary catered meal, so come join us for a nice evening of fellowship, good food, and hearing about our ministry. For information contact us at info@scottnute.org or call 713-277-8638.
For the souls of Filipinos…I am sincerely yours,

Scott Nute