The Janitor's Vision! Birth of a movement.
At the age of 23, while I was the janitor at the Baptist Student Union in Las Cruces, New Mexico (my hometown), I used to have sporadic "impressions" in my mind during my janitorial duties of preaching in front of large crowds of people. These were rather vague, intangible flashes that mystified me and over the years, for the most part, I kept those impressions to myself. As I write this today, at the age of 46, those "visions" from over two decades ago have just become reality. Last week, as I slowly approached and stood at the pulpit for our Crusade in Machilipatnam, India, it all came flashing back to my mind, those dormant "janitor visions" from so long ago. As I stood at the pulpit in silence for a few seconds before the crowd of 17,000 people the first night (over 30,000 were expected the second night), I slowly absorbed that special moment that is now engraved in my heart for eternity! As I—the ol' janitor—finally stood before that crowd that God had me waiting and preparing for the past 23 years…I felt at home!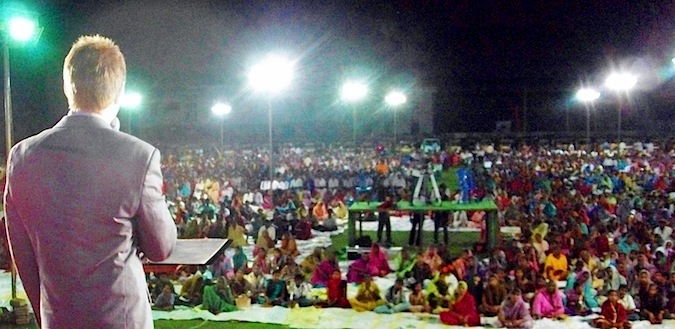 God moved tremendously through the more than 1,000 churches that joined together for this project! After many months of prayer, fasting, and preparations, the Indian Body of Christ brought thousands of their non-Christian family and friends to the Crusade to hear the Gospel. When over 600 people came forward publicly the first night to surrender to Jesus Christ, these conversions greatly angered a local "anti-Christian faith group," who "publicly objected" to the second night of the crusade happening. When news spread of this "objection," hundreds of local church leaders and Christians publicly protested against the "objection" and we were able to go ahead and conduct the final night of the crusade—this was a huge victory for the churches! Then, just as the victory celebration began, it started to thunderstorm and a downpour literally flooded the crusade field just before the service was to begin, with winds blowing so hard it knocked over and damaged one of the sound system stations. Due to this storm it became impossible to conduct the final crusade service so it was canceled. However, in spite of this storm, 1,486 "rickshaws," which are basically the Indian versions of a taxi, had already arrived at the crusade from across the entire region, bringing over 22,000 Indians to hear the Gospel, and another 214 rickshaws en route were contacted and told to turn around and go back due to the cancelation. These many thousands sat in the rickshaws in the rain until the final word was given of the cancelation. Each person was given a salvation tract custom made in the local Telugu language, and then they returned home. It was because of the generous support from our ministry partners that we were able to rent a total of 2,526 rickshaws carrying over 37,000 people to the two-night crusade, and this does not count the number of people living in the immediate area that either walked or had their own transportation to the crusade. The mild "disappointment" we all felt due to the storm cancelling the final crusade service was easily surpassed by a high level of supernatural joy and praise…it was a time of complete victory! To say the least, this was a miraculous and deeply moving experience for all of us!
Furthermore, the following day, due to the previous night's storm, our Leadership Development Conference (LDC) had to be spontaneously moved to another venue, a storm shelter building. Church leaders worked all night to make new preparations, and in spite of the storm and last minute changes, an overflow crowd of 1,136 pastors and church leaders from throughout the entire Machilipatnam region attended our LDC. Mike Scalf, director of New Life Endowment in San Antonio, TX, and I delivered encouraging messages on church leadership, ministry vision, and other topics. Because of the gracious support from you, our ministry partners, we were able to distribute 1,000 Bibles to the pastors and 86,000 salvation tracts. The church leaders were deeply grateful for these practical resources that will help them strengthen and grow their churches and ministries!
Our team leaves in two weeks, October 20-31, to Juba, South Sudan for Stage 1 of our project. Please join us in prayer for the 3-day Leadership Development Conference we are conducting that will bring in church leaders from throughout the country for a time of focused Bible instruction from gifted American church leaders. We will also speak in many local schools and churches, and at an outdoor "open-air revival," and begin the Mobilization Training for Stage 2 of this project to be held in October 2014.
Look at what your financial support and prayers have done…thousands of souls were reached in India and hundreds of church leaders were better equipped for ministry! And now it is time to do the same in South Sudan…Thank You for helping us impact lives!
From India, to South Sudan, to the world…with the Gospel of Jesus Christ

Scott Nute