A Year of Firsts
MERRY CHRISTMAS! What a joy it is to share with you all that God did through our ministry this year, and to say THANK YOU for making it all possible through your support and prayers! This year we had several "firsts" take place in our ministry!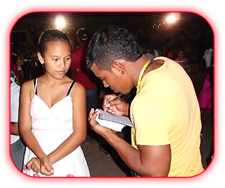 In April we conducted our first Stadium Crusade in La Paz, Honduras! Over 20,000 people attended this event, and over 800 people made a public decision to follow Jesus Christ (like the young girl in the photo to the left, who was getting post-decision follow-up from one of the Counselors we trained).
In August, we published our first book, the biography of my life and ministry—God's Paperboy. If you would like to purchase copies that can be given as Christmas presents, they can be found on Amazon in both paperback and Kindle e-book.
In September, we conducted our first crusade in the United States in Hobbs, NM. The Lord brought cleansing, purifying, & refining, to the involved local churches—and to our ministry—and 94 people made a decision for Jesus Christ, of which 29 were for first-time salvations!
Our year of Crusade ministry concluded last month in Santa Rosa, Honduras, November 4-7. God moved in life-changing power, and a crowd of approximately 12,000 people came from throughout the region to hear about Jesus Christ! We saw 550 men, women, and youth, make commitments to Jesus Christ, such as the woman on the right in the photo below.
In total for 2015, our ministry saw over 1,800 people make a decision for Jesus Christ! Plus, we trained 260 Christians for ministry service (such as the Counselors in the photos) through our pre- and post-crusade personal evangelism, counseling, and follow-up system. And, we distributed 20,000 evangelism tracts through our events. Praise God for all He did!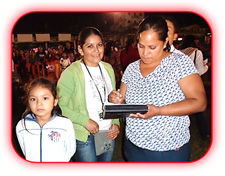 Next year—2016—we will be in the largest metropolitan areas that we have ever been to! We will be conducting Stadium Crusades in countries such as El Salvador and Costa Rica! Please, help us to reach people next year with a special end-of-the-year Christmas gift! For your convenience, our website makes it safe & easy so that you can give a gift ONLINE. Plus, you can give a tax-benefit gift of stock, or securities, or property, through our fund with the National Christian Foundation of Houston. And, a generous year-end gift sent to our office would be appreciated!
THANK YOU for helping us to Reach, Win, & Train, more lives than ever before with the GOOD NEWS OF JESUS CHRIST in 2016!
Merry Christmas,


Scott Nute